Scottish Contemporary Artist : George Devlin RSW, RGI, FRSA, RBA, ROI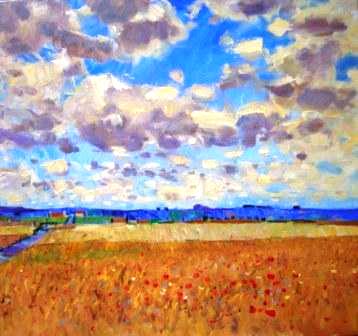 George Devlin was born in 1937 and studied at the Glasgow School of Art (GSA) from 1955 to 1960. At the GSA, Devlin was awarded The Robert Hart Post Diploma Bursary and The Haldane Scholarship. He also won the Chalmers Art Prize, The Carnegie Travelling Art Scholarship and The Maclaine Watters Medal (RSA).
After leaving Art School, George Devlin studied and painted in Greece and Italy before crossing the Sahara where he established himself in West Africa. On returning to the UK, George Devlin was invited to teach painting at the GSA school where he taught art between 1962 and 1966. He was elected a member of The Royal Scottish Society of Painters in Watercolour (RSW) in 1964. Devlin was awarded a major Arts Council Award in 1968 and established his own painting school in 1969, originally in Scotland but later relocated to France.
In 1972 George Devlin was elected the Chairman of the Glasgow League of Artists, in 1989 a member of the Royal Glasgow Institute of Fine Arts and in 1997 elected President of the Glasgow Art Club. This was followed by George being elected a Fellow of the Royal Society of the Arts in 1999. In 2004 George Devlin became a member of the Royal Institute of Oil Painters (ROI) as well as elected as a member of the Royal Society of British Artists (RBA). In recent times George Devlin has worked extensively in Singapore, Hong Kong, Japan, France, Italy, Spain, South Africa as well as Ireland and Scotland.
Between 1969 and 2004 George Devlin has exhibited at no less than 28 selected solo shows of contemporary art in the UK and overseas and many selected Group art shows.
George Devlinís contemporary paintings are held in numerous corporate, public and private collections; these include the National Portrait Gallery Edinburgh, Cunard, Clydesdale Bank, The London Stock Exchange, United Distillers, The Earl Haigh, Lord Maclay and Sir William Gray. George Devlin is also a distinguished portrait painter and was commissioned in 2000 by the National Portrait Gallery, Edinburgh to paint Professor Sir James Black, Nobel Prize winner.
George Devlin most recent artist award was in November 2004 when he won the Gold Medal of The Royal Society of Oil Painters.