Scottish Contemporary Artist: Frank Colclough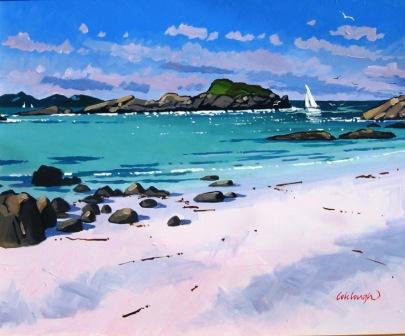 Frank Colclough was born in Wick, Caithness and lived in London before settling in Scotland in 1975. He originally worked as a design draughtsman while studying art at Camberwell and has worked as a professional artist since 1981.
Frank Colclough paintings are now featured in several galleries throughout Scotland. And in addition to Red Rag Gallery in the Cotswolds he has exhibited in a number of English galleries.
All Frank Colclough early contemporary paintings were in watercolour, but over the past few years he has worked in acrylic and oils. The inspiration for Frank Colclough paintings stems from his admiration of the Scottish colourist movement. This is reflected in his paintings which now consists mainly of views of the West coast of Scotland and colourful still life studies.
Today Frank Colclough contemporary paintings appear in many private and public collections. And the RSW, RGI and RSA have all exhibited his work.