Scottish Contemporary Artist : Emma S Davis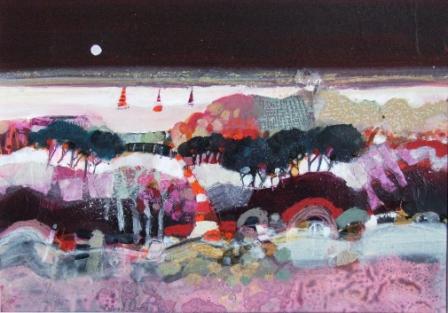 Emma Davis was born in Scotland in 1975 and was brought up in a family of artists. Emma studied contemporary art and painting for four years at Glasgow School of Art and graduated in 1998. As a young artist Emma Davis exhibited at many modern Scottish modern art galleries. This concluded with a sell-out Degree Show of her contemporary paintings.
Emma Davis was the youngest art winner of the Alexander Graham Munro Travel Award, awarded at the Royal Scottish Society of Painters in Watercolours (RSW) in 1999. The contemporary art award enabled Emma to travel extensively in Italy during 2000. As a result she successfully exhibited many contemporary paintings of Italy in the annual RSW exhibition in 2001. She was elected an artist member of the RSW in the same year.
In 2002 Emma Davis was awarded the Sir William Giles art award at the RSW annual exhibition.
Emma Davis says "I have always had a great love for the Scottish landscape as I grew up surrounded by beautiful countryside. My contemporary paintings are often personal. My moods and emotions about particular areas I'm painting, the strength of light and most importantly colour, influence the way that I work each day"
As well as exhibiting at Red Rag Modern Art Gallery in the Cotswolds the contemporary paintings of Emma Davis have appeared in many leading art galleries in England and Scotland.